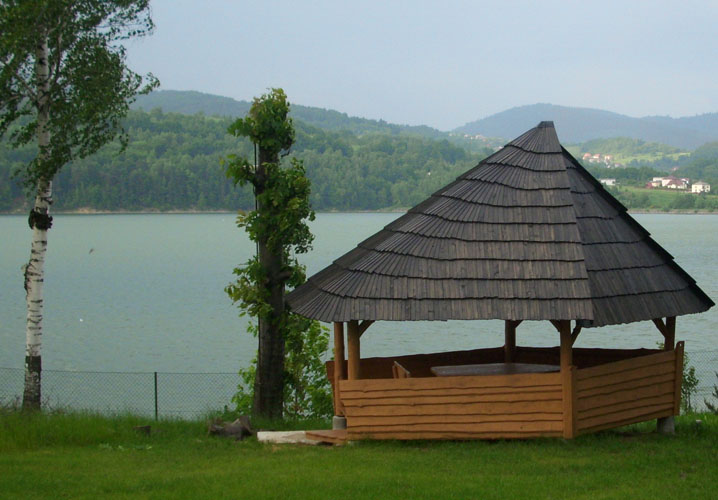 Unusual thatched or reed covered gazebos
The roofs of standard gazebos are usually covered with wooden shingles, ceramic tiles or cheap bituminous roofing felt, however, traditional methods based on layers of all-natural raw materials are more and more often used.
The old Polish pattern of thatched roofs is used not only in the roofing of residential houses, but also elements of small architecture, such as, for example, wooden garden gazebos. Round log buildings look particularly impressive in combination with such an accessory.
The former thatch used to cover farm buildings was of two types: made of sheaves of rye straw or bunches of young reeds. Both methods were applicable only to roofs with a high slope. Straw thatch is used very rarely today, because it is an unstable building material, quickly decomposes.
On the other hand, thatch made of reed is becoming more and more popular. This recurring trend is a great opportunity for companies that specialize in roofing services. Reed roofing is a lucrative business; however, it requires full professionalism and experience in this industry, because the construction of this type of roof is a tedious and complicated process. Long reed bundles are arranged in sheaves and tied with special wires and rods to the roof frame. Water reed is the most commonly used- one year old, long and thin. The layer thickness is approx. 40 cm and what is especially interesting, this provides the same insulation as a normal tile.
The unquestionable advantage of reed is its specific thermal properties. In summer it does not heat up like a classic roofing, keeping the building cool, while in winter it acts as an insulator against low temperatures and moisture. It also has favorable soundproofing features, soundproofing, noise-reducing from the outside and waterproof- effectively protects against the effects of downpours, or melting snow. The ecological properties of the reed roof are also important, which is made of completely natural, found in nature, raw material.
Contrary to appearances, reed is not a light material, because it weighs so much, what a standard tile (ok. 60 kg/ m²), therefore, a sufficiently strong roof truss and solid load-bearing columns are necessary. It is a very durable material, it can even survive intact 70 years, a it is mounted only on steep roofs with a minimum inclination of 40 degrees. In its natural form it is also a flammable product, Therefore, the finished structure is carefully protected against possible fire by means of special impregnations and by using fireproof insulation made of mineral wool or glass wool placed under the reed layers.
If we decide to thatched roof of the gazebo, it is worth considering in advance how this type of accessory will fit in with other elements of the garden. The reed roof perfectly harmonizes with the natural landscape of picturesquely situated towns, however, it generally does not suit the elegant, urban spaces. The cost of such an investment is definitely higher than in the case of standard roofing materials, however, the unrivaled functional and aesthetic properties of reed roofs successfully compensate for the price difference.