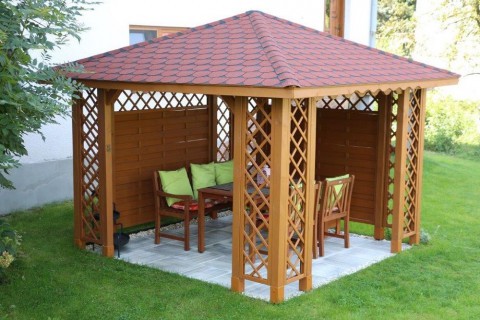 The cheapest self-assembly arbors
In order for a gazebo to look effective, it does not have to be expensive, high-quality materials and built by professionals. Less wealthy owners of gardens of any size can also afford a summer rest in the shade of a summer cottage.
Owners of construction centers and garden furniture stores, every season, they offer customers cheap gazebos for self-assembly, consisting of elements, which only need to be properly submitted on the basis of detailed instructions.
The simplest structures of this type are garden pavilions with a light structure based on an aluminum frame, to which a polyester visor is attached. The more expensive kits come with waterproof sidewalls, as well as windows with curtains, rolled doors and practical mosquito nets stretched on steel tubes.
Folding tents are easy to assemble, quick disassembly, as well as the possibility of any adjustment and an attractive price up to several hundred zlotys depending on the equipment.
Self-assembled wooden houses are definitely more durable structures, consisting of pre-fabricated roof boards or planks, wooden structure, load-bearing poles and a floor platform. Small elements necessary for proper assembly, such as bolts or screws are included in the purchased set. Instructions explaining in detail the next stages of assembly, combined with precise drawings and a list of tools needed is included in each kit.
Wooden houses adapted for recreational purposes are light and functional, so their construction is not a complicated process. Use of cheap materials, such as pine wood or bitumen roofing felt, affects the final low cost of the investment.
Other structures suitable for self-assembly are simple garden sheds that can be used as a roofing for terraces or a separate object placed on the lawn. Their open forms make, that they fit into many garden spaces. They are easy to fold, because they basically only consist of two kinds of components: impregnated load-bearing columns (four or six) reinforced with arrows in the corners and from a simple flat roof, made of profiled PVC boards or more effective, hipped roof covered with wooden shingles or bituminous roofing felt.
The previously made point foundations will ensure the proper durability and stability of the building, to which vertical beams are attached. Their number depends on the number of load-bearing poles used.
Garden gazebos can turn out to be a cheap investment if we decide to assemble the purchased ones ourselves, ready-made items. The end result will be satisfactory as long as you follow the detailed instructions.