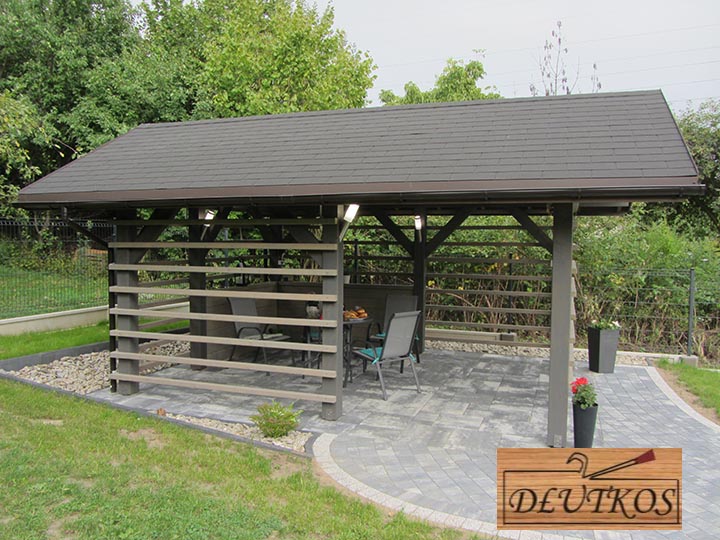 Ready-made projects of wooden garden houses
Wooden houses are the most common form of garden architecture, which we diversify the monotonous space of the plot. They are easy and quick to make, and relatively cheap if we use coniferous wood, pine or spruce. Thanks to proper maintenance and impregnation, they can survive for many years, and though, for obvious reasons, we cannot use them all year round, this is what many dream of being cute, wooden cabin at the edge of the garden.
Many private companies are aware of this when proposing to sell ready-made projects or even prepare an offer to order, taking into account individual tastes. They contain detailed characteristics of the designed object, technical data of the building, functional solutions, description of the structure, list of materials needed to implement the project, basic calculations, necessary equipment, expected construction time and cost estimate. The project, apart from a detailed description, also includes precise drawings- throws, details, calculations.
However, not everyone can afford this type of comprehensive professional services. Fortunately, it is possible to use the database of free projects available on the Internet. After initial registration on a given website, we gain unlimited access to projects published there. We can also add our own suggestions as well as comment and ask questions to the existing ones.
Websites that are platforms for virtual meetings of construction enthusiasts are also very popular, who within a given website, share their experiences, exchange comments, insights, proven functional solutions suggest themselves. They provide various types of proprietary proposals in the field of the so-called. small architecture, so including the designs of wooden garden houses, containing in addition to the basic parameters, also detailed descriptions, drawings, sketches, calculations. In addition, they are most often pictured with photos taken during the construction process.
Building a wooden house based on a ready-made design is easy due to the universal access to the necessary materials, which only need to be connected in the right way. Ready-made impregnated elements can be purchased in everyone, well-stocked DIY store, and then submit it according to the project guidelines. If, on the other hand, we decide to use raw materials, we must remember about the proper maintenance of the boards with special measures.
So it turns out, that with a small financial outlay we can make the dreams of a pretty girl come true, wooden garden house. The only costs we will incur are those related to the purchase of materials and tools necessary for construction. The result will be effective provided that it is based on a precise design and careful execution. Of course, we can also commission a private company to build a house or buy a ready-made project from it, however, then we have to take into account much higher investment costs. However, it is such a simple structure, that we can undertake its implementation ourselves without major problems, and then enjoy the effects of your own work in the field of diversifying the garden landscape.