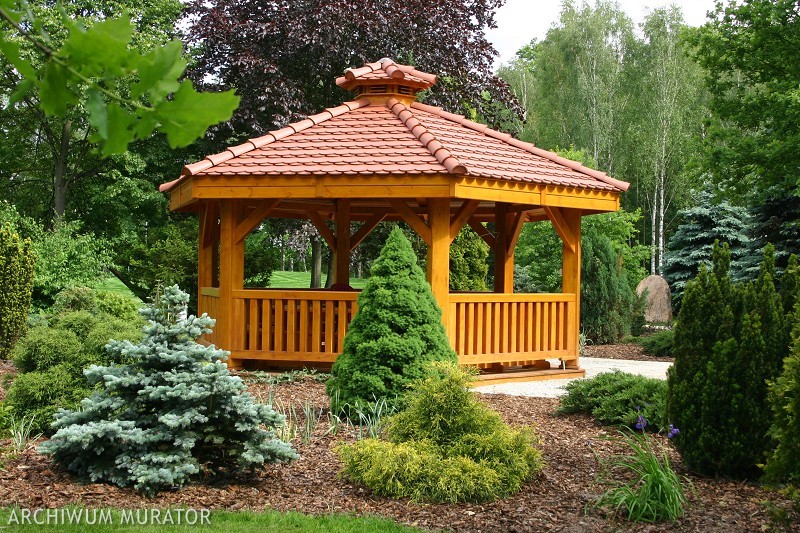 Ready-made allotment gazebos
Erecting a gazebo on a plot or in a garden requires several decisions. First of all, will it be a simple and cheap gazebo, or something more complicated. Second, what it will be made of. Third, whether you put it up yourself, will hire a team or buy something ready.
A ready allotment gazebo, that's a pretty good solution. You know immediately what it will look like and what its cost will be. However, before choosing one of such proposals, it is worth finding out whether it will be necessary to obtain a building permit. It does not depend on whether you are building a gazebo or installing a finished product. If its area is less than 25 m2 and the number of objects on the plot does not exceed two for each plot 500 m2, it is enough to submit a construction notification. It is also important to locate the gazebo on the plot. Depending on how exactly it looks and what character it has, there are regulations on how to situate buildings on the plot or not. According to these regulations, the building, which is placed on the plot should be located at an appropriate distance from its border. On the other hand, whether it is necessary to study these regulations carefully depends on this, whether the gazebo can be defined as a construction object. Such an object has foundations, it is permanently attached to the ground, it has a roof and building partitions, which separate him from space. It is certainly worth making foundations even for the finished gazebo. In order for it to fulfill its functions, it must also have a roof. On the other hand, it is different with walls and they are not always necessary. Then the position of the gazebo can be more arbitrary.
The structure of the gazebo and its roof, which is called ready is designed that way, that it could actually be assembled on a plot or in a garden quite quickly and without major problems. When one of the projects is selected, wall panels are delivered for the plot, of which the gazebo is composed. Usually the floor and the roof are made of wooden boards, which are mounted with special fasteners. However, it is worth knowing about it, that for an additional fee, you can also order the installation of such a gazebo. It is a very convenient solution for everyone, who do not like DIY and this, similar activities.