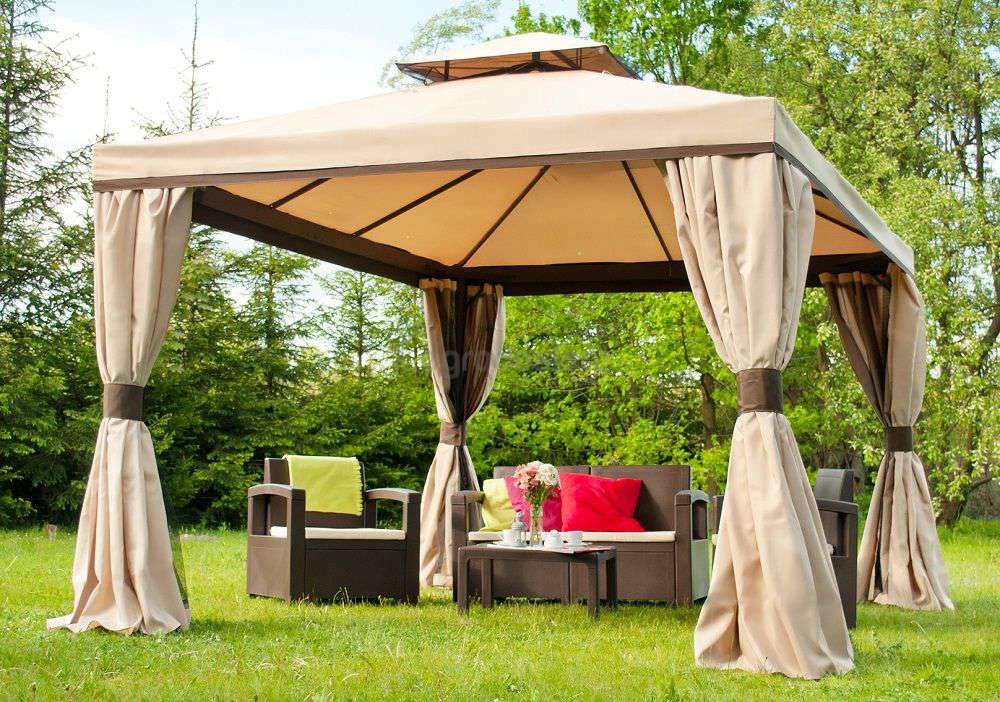 Material gazebos, tents and pavilions with mosquito nets
Garden gazebos are mainly associated with wooden structures permanently attached to the ground, although they can also take the form of light materials spread over thin tubes.
The fold-out garden pavilion is a cheaper version of the standard gazebo. Its simplest structure consists of aluminum or plastic rods and polyester stretched over them, waterproof visor. The more expensive option of the pavilion is enriched with materials, detachable side walls, a mosquito net or even additional walls inside, dividing the space into separate rooms. The side layers of the material can be fully enclosed or have windows with curtains. The door is also a functional solution- rolled, zipped or fastened with Velcro.
Practical pavilions with mosquito nets, providing protection from the sun, rain and insects, they can be glamorous and elegant at the same time. There is a large selection of garden furniture stores, and attractive prices attract many customers. I solidna, the metal structure made of aluminum bars does not, however, protect against strong wind or storm, therefore, in the event of a sudden change in weather, they must be folded back; otherwise they may be irreparably damaged. Their unquestionable advantage is the possibility of any adjustment and the speed of assembly and disassembly. Instead of a tubular frame, much more durable ones are also used, more expensive and longer to install versions of pavilions with a wooden structure.
Material gazebos are most often mounted directly on the floor (e.g.. on the lawn), although practical ones can be purchased for them, lightweight and durable floor plates, ensuring the aesthetic appearance of the whole and protection against moisture.
The gazebos in the form of classic tents have a much simpler structure without decorations. They are mainly used during holiday trips, therefore, they should primarily meet the functional requirements, and then aesthetic. They must be practical, easy to disassemble and quick to disassemble. In summer, they are often set up in gardens and used as a camping version of home bedrooms.
Fabric gazebos, thanks to their light structure, can be moved depending on your preferences, and after folding, they take up little space. At the same time, they are much less durable than classic gazebos and susceptible to various types of material damage: bursts, detachment of fragments and dirt.
Material gazebos can take many forms. Starting with the simplest, fully enclosed tents, through modest canopies spread over metal structures and pavilions with mosquito nets, and ending with elegant gazebos with walls attached to aluminum poles and a functional floor made of light boards.
All these types of gazebos can be found without any problems in DIY stores and garden furniture stores or on special websites. They differ not only in equipment, size, material, or color, but also decorative accessories and sophisticated shapes. For an additional fee, we can place an order with the manufacturer taking into account our individual tastes and needs. Standard fabric gazebos are generally cheap, and properly operated, they can serve even for several seasons.