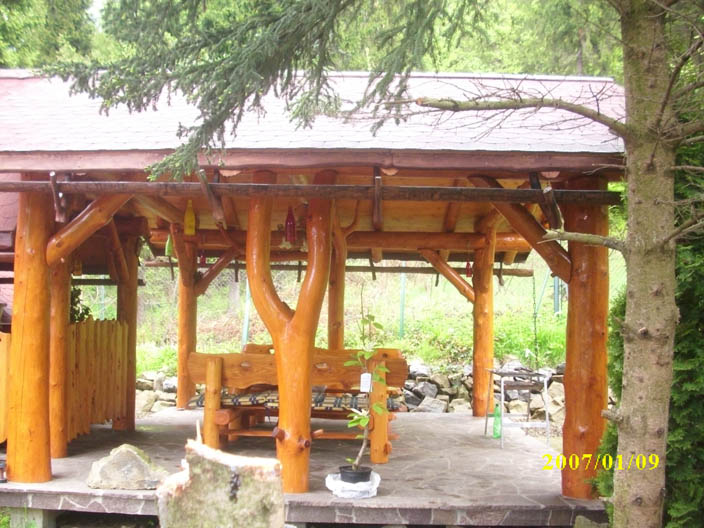 How to build a log gazebo?
Wooden log houses are reminiscent of rural huts built according to traditional methods. Their simple, durable construction, ecological technology, the speed of execution and undoubtedly aesthetic values ​​made it, that this trend has returned in recent years in the form of small summer houses.
In order to be able to build a gazebo yourself, you need to have a proven design containing detailed descriptions of the various stages of work.
The most important element of any construction project is a solid foundation, on which the entire structure is based. In the case of a square gazebo (4m × 4m) four point foundations are enough. To do this, you need to dig holes in depth 60- 70 cm with a side width of approx. 40 cm, then cover them with gravel (rubble) and pour over with concrete mix, before the whole thing solidifies, embed vertical poles in them- beams in length 2,5 meters, then do 30 cm brick foundation (the so-called. plinth).
Then you need to make a framework of the walls, on which the walls will be erected, and finally the roof. The skeleton consists of four lower horizontal beams and four upper horizontal beams, mounted on vertical poles attached to the foundation. The upper beams are also a quadrangular rim supporting the roof structure.
An important point of the work is to build a solid roof truss. In our case, it will consist of four horizontal fins, rafters spaced every 30 cm and strengthening collar flaps. These elements will create a hipped, steep roof covered with wooden shingles.
The next stage of construction is laying the floor in the form of nailing, smooth, wooden planks (e.g.. pine trees). This raised platform must be tightly connected to the plinth using special devices.
A characteristic element of this type of building are the walls created as a result of stacking horizontal logs, one on top of the other. According to the standard coronary method, logs are joined at the corners in the so-called. dovetail.
We have a choice of round logs with a natural shape or square logs. In case of using round logs, important that they are bark-free. You can debark the raw material yourself with special bark beetles, and then smooth the surface with a spike. It is a tedious process, therefore many people have employees of professional sawmills debarking them. You can of course buy ready-made, stripped, planed and properly impregnated, however, it is definitely the more expensive variant.
In our case, four are enough for partial construction of three walls, pine or spruce beams stacked on 1/3 heights (up to half) vertical poles.
The final stage of work is painting the whole with a wood preservative. The so-called. stain varnish.
To make a gazebo inspired by traditional ones yourself, old Polish construction methods should be followed strictly according to the design guidelines. Only then will the effect be satisfactory. The model of Podhale wooden houses adapted to the conditions of the so-called. small architecture can be a perfect complement to almost any garden landscape.