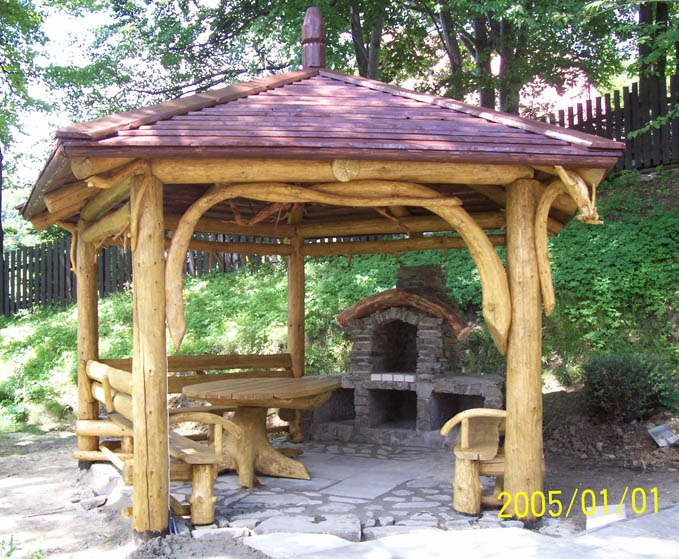 Brick allotment gazebos with a barbecue, fireplace, smokehouse
Many owners of large gardens wonder how to develop and fill the free space, and thus diversify the boring garden landscape. Building a recreational gazebo is a perfect answer to this type of dilemma, combining functionality with aesthetic values. Most often they are wooden structures, but brick ones are especially recommended for large plots.
Brick gazebos are much more durable from the wooden ones, because they are made of stronger materials- cubes, bricks (ordinary, chamotte, facing, clinker), stone (natural, granite, sandstone), concrete layers, although often also with wooden elements as ornaments.
The main feature of these raw materials is strength and resistance to the adverse effects of weather conditions. also they do not heat up so quickly, so during the summer heat you can enjoy the pleasant coolness of the interior of the brick gazebos. This thermal equilibrium also applies to the winter season, when the temperature inside is much higher than in a frosty yard. A useful property is also important protecting against moisture.
Unfortunately, however, these types of gazebos are more expensive to perform, due to the material needed, and much more difficult, therefore they require the involvement of specialists in building.
Brick gazebos are often combined with elements of a kitchen type: smokehouse, grill, or a fireplace. Building these add-ons is a complicated process, therefore it is best to use the help of specialists in the field of stove fitters. The basis is the right foundation ensuring the stability of the entire structure. In case of smokehouse consisting of a hearth, the smoking chamber and the chimney, it is important that there is a thermometer attached to the chamber door and a valve to regulate the draft, thanks to which it is possible to increase or decrease the temperature and smoke density. Relatively high construction costs are compensated by a wide range of applications- hot smoking, smoking with cold smoke or smoking combined with baking. A particularly popular solution is gazebo equipped with smokehouses with grill function mounted with a grate folded over the hearth. This type of offer allows you to prepare dishes, especially cold cuts, in many ways- in the form of aromatic smoked meats, baked treats, or classic skewers.
They are less common gazebos with a fireplace located next to or inside the building. In the latter case, an opening in the roof is required to remove smoke from the chimney. This solution is especially useful in cold weather, autumn days.
When planning the construction of a smokehouse, fireplace, or a barbecue, it is important to take care of high-quality material, which will be exposed to high temperatures. When cheap raw materials are used, subsequent cracks in the structure or the formation of other defects cannot be ruled out.
When we have a large, free space, it is worth considering the construction of the entire garden complex- a brick gazebo with a smokehouse, grill or fireplace. The right combination of sustainable raw materials- bricks, concrete and stone- in addition to its functional values, it will also provide an elegant variety to the garden area.