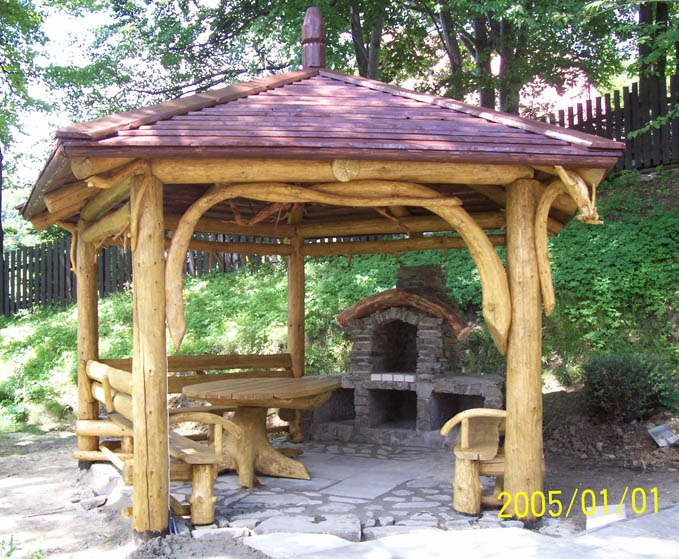 Brick allotment gazebos with a barbecue, fireplace, smokehouse
Many owners of large gardens wonder how to develop and fill the free space, and thus diversify the boring garden landscape. Building a recreational gazebo is a perfect answer to this type of dilemma, combining functionality with aesthetic values. Most often they are wooden structures, but brick ones are especially recommended for large plots.
Brick gazebos are much more durable od drewnianych, because they are made of stronger materials- cubes, bricks (ordinary, chamotte, facing, clinker), stone (natural, granite, sandstone), concrete layers, although often also with wooden elements as ornaments.
Podstawową cechą tych surowców jest strength and resistance na niekorzystne działanie czynników atmosferycznych. Ponadto they do not heat up so quickly, więc podczas letnich upałów można rozkoszować się przyjemnym chłodem wnętrz murowanych altanek. This thermal equilibrium also applies to the winter season, when the temperature inside is much higher than in a frosty yard. Nie bez znaczenia jest także przydatna właściwość protecting against moisture.
Unfortunately, however, tego typu altanki są more expensive to perform, due to the material needed, and much more difficult, therefore they require the involvement of specialists in building.
Brick gazebos are often combined with elements of a kitchen type: smokehouse, grill, or a fireplace. Budowa tych dodatków to skomplikowany proces, therefore it is best to use the help of specialists in the field of stove fitters. The basis is the right foundation ensuring the stability of the entire structure. In case of wędzarni consisting of a hearth, the smoking chamber and the chimney, it is important that there is a thermometer attached to the chamber door and a valve to regulate the draft, thanks to which it is possible to increase or decrease the temperature and smoke density. Relatively high construction costs are compensated by a wide range of applications- hot smoking, wędzenie zimnym dymem albo wędzenie połączone z pieczeniem. Szczególnie popularnym rozwiązaniem jest gazebo equipped with smokehouses with grill function montowanego przy pomocy kratki rozkładanej nad paleniskiem. This type of offer allows you to prepare dishes, especially cold cuts, na wiele sposobów- in the form of aromatic smoked meats, baked treats, or classic skewers.
Rzadziej spotykane są gazebos with a fireplace umieszczonym tuż obok lub wewnątrz budowli. In the latter case, an opening in the roof is required to remove smoke from the chimney. This solution is especially useful in cold weather, autumn days.
When planning the construction of a smokehouse, fireplace, or a barbecue, ważne jest zadbanie o high-quality material, which will be exposed to high temperatures. When cheap raw materials are used, subsequent cracks in the structure or the formation of other defects cannot be ruled out.
When we have a large, free space, it is worth considering the construction of the entire garden complex- a brick gazebo with a smokehouse, grill or fireplace. The right combination of sustainable raw materials- bricks, concrete and stone- poza walorami funkcjonalnymi stanowić będzie także eleganckie urozmaicenie powierzchni ogrodu.